RE/MAX Premier Inc.


This section of the website is devoted to providing statistics on the Toronto real estate market. Careful evaluation of this type of information can sometimes provide valuable insight into the market, the factors that drive the market, and possible future trends. Be very careful before making a buying or purchasing decision based on these type of statistics alone. Predicting the future by extrapolating from the past can be very risky without professional advice.

---

Table of Contents
Resale Sales Volume
This first set of charts depict various aspects of the volume of sales of resale homes in the greater Toronto market.
Average Selling Prices
These sets of charts depict variation in average selling price for single family dwellings historically and by month comparing 2016 to 2015
Inventory of Homes For Sale
These charts depict trends in the numbers of available homes for sale.
Home Sales By Type/Price
These charts break down recent sales according to type of property and price.
---
Sales Volume Statistics
2016 Monthly Sales versus 2015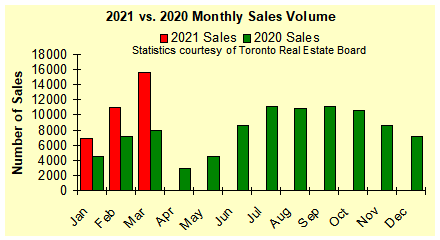 The Toronto Real Estate Board reported 9,768 homes sold in October 2016. This record setting October sales volume represents a slight, 1 percent decline from the sales volume reported for September but a 12 percent increase over the sales volume reported for September 2015.


Annual Sales Volume 1980-2015



This chart graphically depicts the number of single family homes sold in the years 1980 through to 2015. The volume of sales in the Toronto area experienced peaks in 1986 and 1988 followed by slow years during the early 1990's. Sales volume picked up from 1996 onwards. Sales of resale homes in 2015 were the highest recorded.
[Note: the Toronto Real Estate Board's geographic boundaries were changed during the period depicted in the graph, so direct comparisons between 1996 and 1986 for example, are not valid]


Sales Year-To-Date



This chart depicts the number of resale homes sold to the end of October for each of the years 1991 through to 2016. Record setting sales volumes in several months this year have propelled year to date sales volume to a record level.


Average Selling Prices
Average Selling Price 1980-2015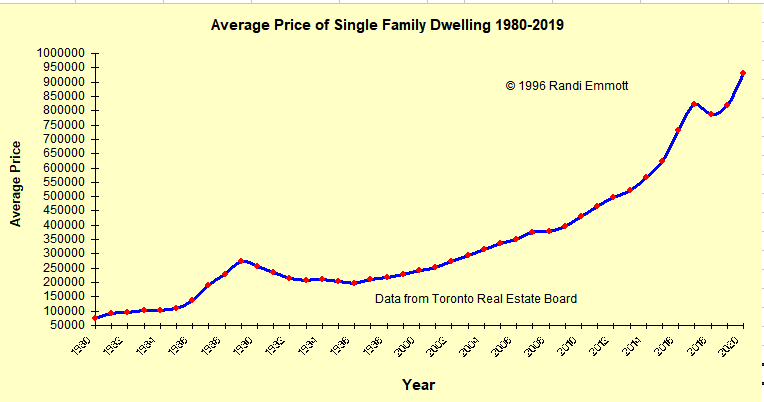 This chart presents average price trends for houses in the Toronto area during the last 35 years. House prices clearly peaked in 1989 and then dropped until 1996. House prices have been steadily increasing since then. Prices levelled off during 2008, but resumed their upward climb in 2009.


Average Monthly Selling Price 2016 vs 2015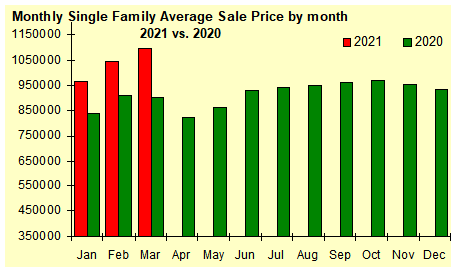 The average selling price of homes that sold during October was $792,975 - which represents a slight 1 percent gain over the average price reported for September 2016. The October monthly average selling price was also 21 percent higher than the selling price reported for October 2015. Average selling price reported on a monthly basis can be misleading as it is comprised of a combination of the real value of property plus the mix of higher priced to lower priced homes that have sold during the month. The mix of homes sold during October is depicted below in the Sales by Price Breakdown chart.

The average selling price year-to-date to the end of October 2016 was $725,857 - approximately 16.7 percent higher than the average selling price for the year 2015.


Inventory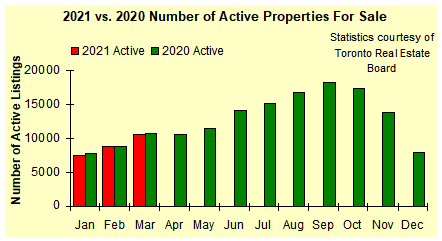 This chart depicts the number of active listings (properties for sale) on the Toronto Real Estate Board. There were 10,563 properties listed for sale in October 2016 which represents a 6 percent decline from the number of properties listed for sale in September and more importantly was 35 percent lower than the number of properties listed for sale a year ago in October 2015.


Home Sales by Type/Price
Home Sales by Type of Property: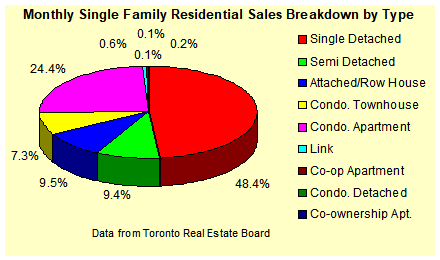 This chart breaks down single family residential sales during October 2016 into the various different categories of property such as single family detached, semi-detached, townhouse etc.


Home Sales by Price Range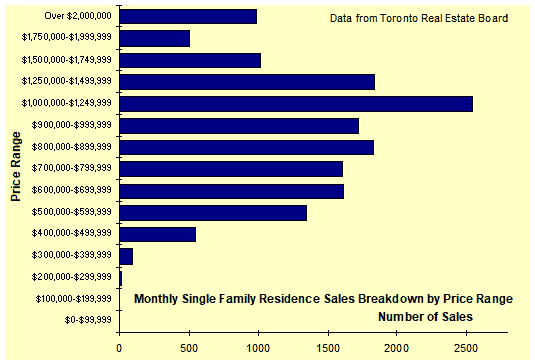 This chart breaks down sales of single family homes during October 2016 into price ranges so that the most popular (highest selling) price ranges can be quickly determined. Highest sales volume during October were homes in the $300,000 - $400,000 price range with homes in the $400,000 - $500,000 and $500,00 - $600,000 very close behind coming in second and third. The mix between sales of higher priced homes versus lower priced homes directly affects the average selling price reported for the month.


Back To/Check Out Randi Emmott's Home Page
---
For further information please contact:

Randi Emmott, Sales Representative
RE/MAX Premier Inc.
Tel: (416) 987-8000
E-Mail: remmott@remax.net

Ryan Emmott, Sales Representative
RE/MAX Premier Inc.
Tel: (416) 987-8000
E-Mail: r.emmott@gmail.com